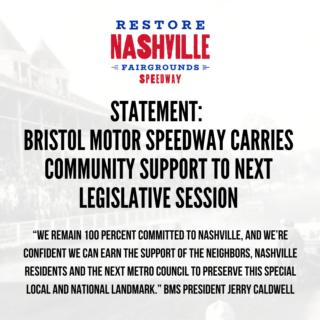 Tuesday August 1, 2023
"We remain 100 percent committed to Nashville, and we're confident we can earn the support of the neighbors, Nashville residents and the next Metro Council to preserve this special local and national landmark," Caldwell added.
Read More
Recent Headlines
07/24/23

Open article for full map

07/20/23

Join us for an important supporter rally on Tuesday, July 25th

06/08/23

Three out of four likely primary voters who live within one mile of the Nashville Fairgrounds and two-thirds of those surveyed across Davidson County support a proposed agreement for Bristol Motor Speedway to lease and renovate the historic Nashville Fairgrounds Speedway, according to a recently completed public opinion survey. 

06/01/23

Dear Vice Mayor Shulman and Members of Metro Council,

I would like to provide you with current information on the proposed Bristol Motor Speedway lease partnership with Metropolitan Nashville Government for the historic Nashville Fairgrounds Speedway (NFS). A vote for the agreement is a vote to preserve Nashville's history, enhance the surrounding Fairgrounds neighborhood, bring limited NASCAR racing back to Nashville, and generate millions of dollars of revenue for local businesses.
More News