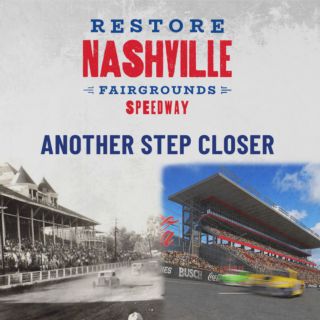 Tuesday November 08, 2022
The Nashville Metropolitan Mayor's office, in partnership with Bristol Motor Speedway (BMS), has reached an agreement on contract terms to renovate and lease the historic Nashville Fairgrounds Speedway (NFS) venue that includes the transformation of the Speedway campus into a year-round, multipurpose venue that will host NASCAR and non-racing, revenue-generating events.
Read More
Recent Headlines
11/30/21

Following the letter of intent signed in March 2021, Bristol Motor Speedway (BMS) has presented Mayor John Cooper with a proposal to both revitalize the legendary 117-year-old Nashville Fairgrounds Speedway and bring NASCAR Cup Series racing back to Nashville. Mayor Cooper has agreed in principle to the plan.

07/08/21

Globally renowned sound engineering firm Wrightson, Haddon, Johnson, and Williams (WHJW) has conducted an extensive study of Nashville Fairgrounds Speedway and the surrounding neighborhood communities.

06/16/21

04/28/21

In this special addition to the Restore Nashville Fairgrounds Speedway Website, we answer some frequently asked questions for the community so you can get a better vision of the Bristol Motor Speedway and Speedway Motorsports Vision for the overall project.
More News