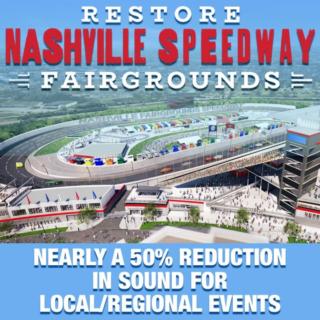 Thursday July 08, 2021
Globally renowned sound engineering firm Wrightson, Haddon, Johnson, and Williams (WHJW) has conducted an extensive study of Nashville Fairgrounds Speedway and the surrounding neighborhood communities.
Read More
Recent Headlines
06/16/21

04/28/21

In this special addition to the Restore Nashville Fairgrounds Speedway Website, we answer some frequently asked questions for the community so you can get a better vision of the Bristol Motor Speedway and Speedway Motorsports Vision for the overall project.

03/05/21

Metropolitan Government of Nashville and Davidson County and Bristol Motor Speedway (BMS) have entered into a letter of intent to renovate historic Nashville Fairgrounds Speedway (NFS) for the potential return of NASCAR events at the legendary racetrack.

12/20/20

Metro Nashville is in talks with Bristol Motor Speedway to bring NASCAR televised racing to an improved, historic Nashville Fairgrounds Speedway. Such racing could take place as soon as 2022.
More News